Gluten Free
How it all began…
When HBC set out to find a Gluten Free crust that we would be comfortable and proud to serve at our restaurant, we came across a local company in Connecticut called Still Riding Foods. After researching the company, it was clear that they were as serious about their product as we are about ours. Still Riding Foods is committed to providing the GF community with a safe and delicious product.
HBC is serious about gluten free!
Harry's Bishops Corner is serious about offering a truly gluten free pizza. We have gone to great measures to be sure that our GF pies are gluten free from start to finish. In partnership with Still Riding Foods, we have developed and put in place certain procedures to insure that our gf pizzas are safe, while still maintaining a delicious and high quality product!
We also offer one of the area's largest selections of gluten free toppings and specialty pie ingredients. We use fresh vegetables and meats that are naturally gluten free.
How we prepare a delicious GF Pizza for your safety.
We begin with a gluten free crust from Still Riding Foods, add our traditional tomato sauce, mozzarella cheese, a sprinkle of aged Italian cheeses and your choice of toppings. *Bonus…the majority of our specialty pies are gluten free!  

Additional steps taken to prevent cross contamination….
All gluten free pizza is made in a designated GF pizza station with separate GF ingredients.
All gluten free pizzas are baked in a designated GF oven using designated GF pizza peels.
All gluten free pizzas are cut using designated GF pizza cutters.
We welcome any questions or comments about our gluten free pizza.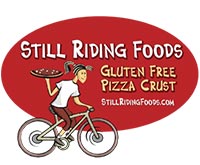 For more information about Still Riding Foods,
please visit them at stillridingfoods.com